In the past, people wouldn't really think about the purchases they have made. We would spend money shopping for fast fashion and buying cheap cosmetics without giving any thought where they came from and what they were made of. Then, cruelty-free brands popped up and suddenly, every consumer was forced to research the ingredients of the products they usually buy. The best natural and organic makeup brands are the ones that get the job done while keeping it free from harsh chemicals.
We started to learn more about the cosmetics industry and what was actually going into the products. From potentially cancer-causing parabens to common skin irritants, we started to realize that there are actually harmful chemicals found in makeup products. So, it makes complete sense to think about using and switching to natural and organic makeup brands for a healthier and sustainable lifestyle.
Lately, these natural and organic makeup brands have started to earn quite a following. This just means that consumers have started to care about non-toxic ingredients. They now make a conscious effort to pay close attention to harmful chemicals usually found in makeup products. There used to be a time that people would find it hard to obtain organic beauty products that could easily impress them.

Today, on the other hand, there are plenty of brands to choose from. Here are the 10 best natural and organic makeup brands you need on your vanity right now:
100% Pure

100% Pure has a full collection of skincare, makeup, hair, and body products all made with natural ingredients. Founded by Susie Wang, James Wang, and Ric Kostick, 100% Pure adheres to strict purity standards that vows to never contain harsh or toxic ingredients. The brand remains serious about the way they make their products, confirming that its products don't contain any synthetic or artificial ingredients.
The products remain naturally pigmented, avoiding commonly used FD&C colorants and heavy metal dyes. They source their pigments from fruit, vegetables, tea, and cocoa. Aside from that, they also commit to animal welfare which means that they would never test their products on animals and go through a painstaking process to make sure each ingredient is not sourced from animals.
Alima Pure

Alima Pure has a full set of makeup products for face, cheeks, eyes, and lips all made with pure and natural ingredients. Founded by mother and kindergarten teacher Kate O'Brien, Alima Pure is a woman-owned and run company with luxurious, high-performing products all made with pure and clean ingredients. The brand is currently enrolled in a Green Source Renewable Power Program which derives power from 100% renewable sources that include Solar, Wind, Biomass, Hydro, and Geothermal.
The products remain free from cruelty, parabens, sulfates, phthalates, dimethicone, petroleum, talc, bismuth oxychloride, and nanoparticles. Believing in minimal ingredients for a maximum impact, the brand is all about using pure mineral pigments, nourishing plant oils, and soothing botanicals. Aside from that, their website carries a list of ingredients that consumers could check out.
Au Naturale

Au Naturale has a full set of products for face, cheeks, eyes, lips, and even makeup tools. Founded by a former nuclear analyst in Washington D.C., Ashley Prange decided to solve an even bigger challenge: creating a line of bold, long-lasting color cosmetics without the harmful chemicals that lead to many chronic breakouts, irritation, and toxic load. The products use exclusively healthy, naturally derived, and ethically sourced ingredients.
The brand pioneered a movement to demand stricter regulation of cosmetics products in the country, fighting for transparent regulation also known as the Clean Beauty Revolution. Both a brand and a cause, Au Naturale creates a line of vegan, organic, paraben-free, cruelty-free, and ethical makeup products opening consumer minds to generate demand for continued change. With heavy scrutinizing as part of their process, they make sure that every ingredient is naturally-sourced before making the final cut.
Bite Beauty

Bite Beauty has a full set of products but remains notably known for its edible and vegan lip products. Founded by Susanne Langmuir, Bite Beauty products remain clean, cruelty-free and gluten-free with food-grade vegan ingredients infused with resveratrol, a type of natural phenol, and a phytoalexin produced in several plants like grapes, blueberries, raspberries, mulberries, and peanuts which is also commonly used as a dietary supplement.
Consumers were captivated with Lip Lab, where they could acquire custom blend lipsticks on-the-spot. As of January 2020, they already have five Lip Labs: two in New York; SoHo (the flagship store) and Brooklyn, one in Toronto, one in San Francisco, and another in Los Angeles. Powered by superfoods, they endorse their products with supercharged performance with the instant impact of vivid colors and sensorial textures.
Cocokind

Cocokind has a full set of skincare and makeup products. Founded by Priscilla Tsai who was climbing the Wall Street corporate ladder but left to shift gears and launch a clean, conscious, and sustainable skincare brand. She used her brand as an answer to the beauty industry's lack of transparency and to hormonal acne that she struggled with.
All cocokind products that do not contain organic beeswax are certified Vegan Action through the Vegan Awareness Foundation. Ensuring vendors and suppliers, cocokind remains a cruelty-free company and vowed that they have never tested on animals. Since a lot of their products remain food-grade ones, their products have shelf lives of between 18 months to 30 months.
Ilia Beauty

Ilia Beauty has a full set of cosmetics products for face, lip, and eyes. Founded by Sasha Plavsic and Zachary Ilia, they started Ilia Beauty products when she read the ingredient list on her favorite lip balm. Shocked to discover many of the ingredients were not safe, they used it as a challenge to recreate products that would remain safe, effective, and natural.
Their products are appropriate for all skin types, remaining phthalate, sulfate, and paraben-free. Their products also remain non-GMO, gluten-free, and talc-free. They carry the Leaping Bunny certification meaning that none of their products are tested on animals. Using FDA-approved food-grade dyes and mineral-based pigments, the products also remain completely vegan.
Juice Beauty

Juice Beauty has a full set of skincare and makeup products. Founded by serial wellness entrepreneur Karen Behnke, she built the first corporate wellness company in America. She set out to find healthy skincare solutions that deliver visible results. They remain vegan, cruelty-free, sustainable, and use certified organic ingredients.
Going beyond clean, natural, transparent, and conventional, the brand also has clinically validated formulas and authentically organic ingredients. Juice Beauty usually has advanced, high potency ingredients like Vitamin C and fruit stem cells, vegetable hyaluronic acid, peptides, algae, grapeseed, and natural essential oils.
Milk Makeup

Milk Makeup has a full set of skincare and makeup products. Founded by Zanna Roberts Rassi, Mazdack Rassi, Georgie Greville, and Dianna Ruth, the brand believes that good ingredients result in an epic payoff. The products are also cruelty-free, paraben-free, and 100% vegan. Their website has an ingredient blacklist, enumerating the things that remain harmful to the skin.
Probably the most notable natural and organic makeup brand in today's standards, Milk Makeup has received praise from publications such as Vogue, Teen Vogue, Vanity Fair, and InStyle Magazine. They have also been noted for its use of atypical models like Sabrina Karlsson, and many LGBTQIA+ models.
Vapour Beauty

Vapour Beauty has a full set of makeup for face, cheeks, eyes, and lips. They also sell clean deodorants and makeup tools. Founded by beauty pioneers Krysia Boinis and Kristine Keheley, they lead the company with the evolution of clean color cosmetics. The brand strictly regarded the power of plants to support health, beauty, and wellbeing.
Their website has an ingredient glossary, enumerating the high standards for performance and purity. The brand vowed that its ingredients remain responsibly sourced and have been chosen for the lowest environmental impact. Choosing organically farmed, naturally derived, and minimally processed ingredients, they provide products made from plant-based lifestyle evaluated and approved by the FDA.
W3ll People

W3ll People has a full set of makeup for face, eyes, lips, skincare, brushes, and even tools. They have formulas that use nutrient-dense, organic botanicals that actually aid in improving skin quality over time. Plants are the foundation of every single one of their products. They opted for a safe synthetic.
They source organic ingredients as much as possible. If one ingredient becomes unavailable, they still ensure that every component remains responsibly-produced. All ingredients are ethically and sustainably sourced. Aside from their products, their packaging is also created with post-recycled plastics that remain recyclable.
Needless to say, greening up your vanity table may be the best idea you'll ever have.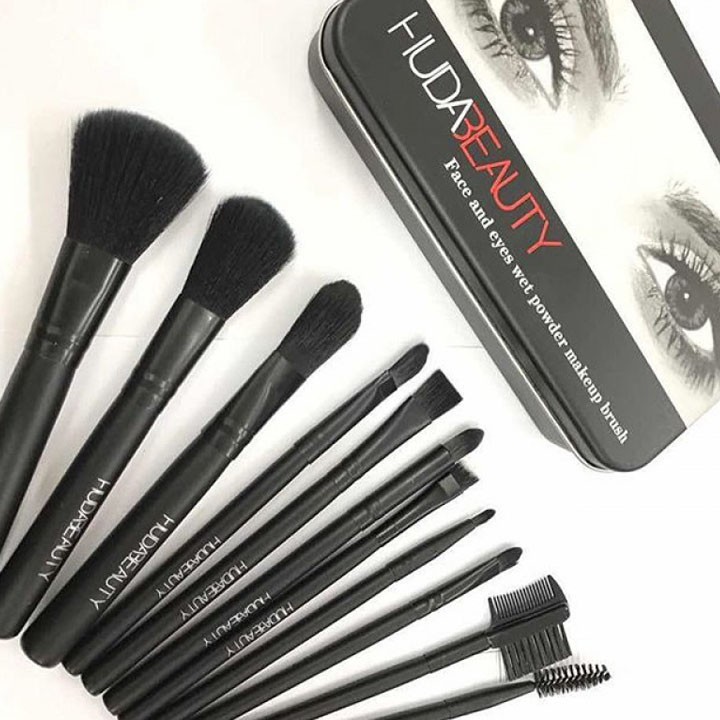 Whether you're a diehard makeup fanatic or simply like to dabble in the world of cosmetics, knowing about all the different types of makeup brushes and their uses is basically Makeup 101. We know, we know, it can feel hella overwhelming, but don't sweat it! Because we are going to share the best brushes you need to try. They are not just some brushes though.We will have a list of the essential makeup brushes that everyone should have in their collection which are form Huda Beauty!
Sculpt & Shade Brush
A dual-ended brush with synthetic fibers designed for perfect contour and bronzer application.
The smaller, angled brush contains densely packed bristles for precise product application. The larger, fluffy end buffs and blends any harsh lines on the face.
Conceal & Blend Brush
A dual ended precision complexion brush with synthetic fibers designed for foolproof makeup application.
N.Y.M.P.H. Highlighting Powder Brush
The perfect companion to the N.Y.M.P.H. All Over Highlighting Powder, this super luxurious, large fluffy brush is perfect for buffing and blending powders on both the face and body for flawless results! Huda designed this brush with a rounded-dome shape, using fibers with a luxe, soft pink gradient for the ultimate glam experience.
Buff & Blend Brush
"Using foundation shouldn't be intimidating so I wanted to create a tool that would make the application process super easy and give the most gorgeous finish. I love stippling my foundation to get maximum coverage and this brush is perfect for doing that, but it's also amazing for blending, contouring, and buffing to get a flawless look." – Huda Kattan
Moisturizing Wand Tool
This Moisturizing Wand is a 100% vegan brush crafted from 3 different fiber lengths that allows you to effortlessly apply product in a thin, even layer across your face and neck. This clever moisturizing tool makes application more efficient than ever before while reducing the risk of premature aging from skin tugging, often caused by rough and poor application technique. The long bristles hold product on the surface of the brush while shorter bristles support even application over the skin, making it easier to apply to those hard-to-reach places.
Furthermore, this tool was developed to be paired perfectly with our Honey Balm Jelly Moisturizer but works effortlessly with any other moisturizer formula.
Bake & Blend Brush
This dual-ended Huda itemis ideal for baking, applying blush, bronzer, and powder foundations.   Densely packed synthetic bristles ensure maximum product pick-up to gently press powders into skin, where the fluffy end can be used to dust on your favorite formula for a soft, airbrushed finish.
Blur & Glow Body Brush
It is a velvety-soft, all-over body brush with synthetic fibers for even application of liquid highlighter.
The Best Huda Beauty Lip Balm : Huda Beauty Diamond Hydrating Lip Balm
Despite the fact that things appear to be dull and grim recently, Huda Beauty just propelled a holographic beam of daylight. The new Huda Beauty Diamond Hydrating Lip Balm! This salve is a somewhat colored ointment with a polished completion. Obviously it additionally has this ravishing holographic bundling. Additionally, the outside of the analgesic is shimmering! Heave! Huda is continually coming through with her inventive dreams (like the cream bronzer I checked on the previous spring), so this new emollient is too energizing.
Photograph Credit: Instagram @HudaBeauty
Huda Beauty Diamond Hydrating Lip Balm is $25 and is accessible in 6 distinct shades – Seductress (transparent pink), Negligee (sheer naked), Dirty Thoughts (transparent lilac), Censored (profound purple), Femme Fatale (rosy purple), and Pink Panty (comfortable pink). In any case, just Seductress, Negligee, and Dirty Thoughts are accessible on the Sephora site. The 3 extra shades are HudaBeauty.com special features.
Huda Beauty Diamond Balm Review – Dirty Thoughts
In spite of the fact that I think each of the three shades are beautiful, I decided on the lilac shade – Dirty Thoughts. Not exclusively are lilac shades complimenting for cooler conditioned skin, yet anything with a blue connotation will help make your teeth look more white also. I additionally like that the three online restrictive shades appear to be somewhat more obscure as well. (Patterns from the Huda Beauty Instagram page are beneath.) truth be told, the haziest two – Femme Fatale and Censored seem as though they even have a smidgen of a color to them. Truly, the initial three all look really comparable. So I'm speculating the distinctions are in the connotations face to face.
Huda Beauty Diamond Hydrating Lip Balm Seductress, Huda Beauty Diamond Hydrating Lip Balm Negligee, Huda Beauty Diamond Hydrating Lip Balm Dirty Thoughts, Huda Beauty Diamond Hydrating Lip Balm Censored, Huda Beauty Diamond Hydrating Lip Balm Femme Fatale, Huda Beauty Diamond Hydrating Lip Balm Pink Panty, Huda Beauty Diamond Hydrating Lip Balm Swatches
Photograph Credit: Instagram @HudaBeauty
Nonetheless, when I both swatched and applied the shade Dirty Thoughts, there was almost no color, color, or hint by any means. Indeed, it simply left a swipe of luminous sparkle behind. Despite the fact that the sparkle is beautiful, it wasn't in any way similar to I foreseen. I hoped for something else of a genuine lip ointment. Possibly with a trace of sparkle. Not an all out sparkle stick. Additionally, the equation itself is overly very delicate. After only several applications, the head of the lipstick was totally caution down. It's so delicate it even left some delicate disintegrates of analgesic on my wrist and lips. I love a delicate lip demulcent, yet nobody needs to squander item!
Huda Beauty Diamond Balm Review – Dirty Thoughts Swatch
I love the idea and the staggering bundling. Yet, I was truly interested by the external covering of the lip salve. The sparkle covering certainly attracted me to this item. It helps me to remember the outside of the Barbie x Pur lipsticks. (Full survey here). In spite of the fact that the outside of the lipstick was canvassed in sparkle, the lipstick was some way or another despite everything matte! Like enchantment! Yet, that is not the situation with the Huda Beauty Diamond Hydrating Lip Balm. Actually, this lip analgesic is a complete sparkle bomb! It's extremely difficult to find in the photographs, however you can see the sparkle in the pattern. You're essentially simply swiping sparkle all the rage.
Huda Beauty Diamond Balm Review
Generally I would think about a lip analgesic as to a greater degree a "no cosmetics" cosmetics fundamental. Nonetheless, this Diamond Lip Balm is so glittery I think you'd look sort of odd wearing it with no other cosmetics. Indeed, I think this salve is ideal for the young lady that needs to say something however abhors lip sparkle. It gives you an overly shimmering "wow factor" sort of look you'd anticipate from the Pat McGrath Labs Lust Gloss (you can peruse that full audit here.) Like I referenced, I think this medicine is ideal for the low upkeep lady that needs an excessively glittery (however simple!) search for a night out. This isn't your consistently lip ointment. You'll without a doubt get sparkle all over the place.
Huda Beauty Diamond Balm Review
Generally speaking Ranking (out of 5)
Huda Beauty Diamond Hydrating Lip Balm – 3 – I'm somewhat confounded by it. It's excessively lovely. Be that as it may, it's a greater amount of only a saturating sparkle clincher than a consistently medicine. In any case, there's not exactly enough shading/color to make it an incredible independent item. In spite of the fact that the sparkle is entertaining. Furthermore, the bundling is delightful.
What's your opinion of the new Huda Beauty Diamond Hydrating Lip Balm? Is it on your rundown? Which shade is your top pick? Tell me in the remarks beneath!
The Best Huda Beauty Lipstick Below 25 dollars!
As a self-claimed lipstick junkie, I've for quite some time been an aficionado of matte fluid recipes. All things considered, I'm the first to concede that not all recipes are made similarly. Some are so inconceivably drying that you have an inclination that your mope was assaulted with a sandblaster. Others stay ultra rich for quite a long time after application, so they wear off your mouth and into your supper. I had surrender to all these (honestly unwanted) symptoms for the sake of a sensational pucker until I tried out Huda Kattan's new Liquid Matte lipstick ($20).
Huda herself is without a doubt a marvel virtuoso. Beside being a vlogger, cosmetics craftsman, and one of the top influencers on Instagram, she has a stalwart cosmetics line. As of recently, it's comprised of fluttery bogus lash strips and Lip Contour pencils. Taking into account that her velvety, sturdy lip liners immediately became fundamentals in my excellence pack, I had elevated expectations for the Liquid Mattes, and I was not frustrated.
Her recipe is shockingly wet and runnier than others you may have played with, however this is really a gift. Since the recipe takes more time to dry, you have more opportunity to work with the shading and shape your lips. After around 60 seconds, the fluid sets yet is marginally shabby to the touch. This is likewise a reward. Your pucker will never feel got dried out or dried up (yuck), and you can layer on coat after coat without the color demonstrating any stout development. I explored different avenues regarding slicking on a couple of shades — no sweat! — to make a more dimensional, ombré lip look.
The longwear nature of the recipe is additionally noteworthy — I ate, drank, and even rested in these lipsticks effectively with no chipping or disintegration. Nonetheless, in the territories where the shading blurred, it did so equally, not in enormous patches. I additionally cherished the fragrance! It was fragrant of genuine vanilla concentrate in the cylinder, rather than the more plastic-like smells found in other cosmetics items. On the lips, it dried down to a more inconspicuous cake hitter aroma.
In any case, by a long shot, the best some portion of the Liquid Matte dispatch is the shading choices. The choice inclines intensely towards '90s pinks, earthy colors, and vampy tones, except for a couple of dynamic reds and pinks. While Huda records the smooth chocolate conceal "Tease" and cool red "Heartbreaker" as her top picks, I am living for "Venus," a warm, light mauve. I apply it well external my common lip line to get that pined for Kylie-esque grit pucker.
You can shop each of the 16 shades when they dispatch on July 29, which happens to be National Lipstick Day — an occasion that the Huda Beauty brand possesses the rights to. Meanwhile, perused on to investigate which hues you need in your assortment, see patterns on various skin tones, and even observer how they hold up to running water (spoiler: they don't move).