Halloween is not even happening in 2 months but because we all need a little something to look forward to, we already cannot stop thinking about it! With everything that has happened in the first half of the year, we all deserve an epic halloween party to remember, don't you think? That said, it is only right to make your look this year your best one yet with these best halloween makeup ideas to try in 2020. 
What makes halloween immensely interesting and exciting as compared to other special occasions like let's say, weddings, birthdays or extra special night outs with your friends is that your imagination can run as wild as you want it to. You wanna go for a sexy and sultry look? Go for it! You know what they say – halloween is THAT one night when literally no one judges. You want to take a trip down memory lane and dress up as your favourite cartoon character? Be our guest. Have as much fun as you want. You want to be a literal show stopper by pulling off a scary halloween makeup to go with your outfit? We say go for it! No one is stopping you. 
That said, here is a list of the best halloween makeup – including tips and the best products to use. 
Joker But Make It Fashion 
How can we all forget that one time everyone's idol, Jeffree Star, showed up in a full-on Joker look? A lot less morbid and gory, but it was glorious nonetheless. This makeup look created by Henry Vasquez a.k.a. No Just Henry. 
For this look, the best halloween makeup product to use would be the Make Up For Ever Flash color palette. While it is not exactly an official halloween make up product, its bright and pigmented colors are perfect for recreating looks such as that one by Jeffree Star. 
Enchanted Fairy Glow 
Not one for dark and edgy looks? Planning to look extra cute and glam for halloween this year? We fully support. Take cues from this fairy makeup look by Youtuber Ereka Jane. We absolutely love how she made us of so much light colors but it is still a definite standout once you enter the club. 
Planning to recreate this look? We highly suggest using the Nyx Professional Metallic Glitter in Lumi-Lite. It is actually almost exactly the same product Ereka Jane used for this look. 
The Mask by EllyCatt 
Not so long ago, Gigi Hadid showed up with a full face of makeup looking exactly like the mask. Makeup influencer EllyCatt followed the cue and recreated the look – a fantastic one at that. If you own a lot of yellows in your closet – particularly a set of yellow trousers and a matching blazer, you would be ready to go! 
Wednesday Addams on Halloween Night 
Because this one is a classic – it is not an entirely bad idea to show up at this crowd-favourite halloween look. This halloween makeup look by Kayla Hagey is a must try because it comes with halloween makeup tips that are beginner friendly too. With a few dabs and face beat here and there, you would be ready to go in no time. 
The most important thing to pull off this look is to make sure you have well-defined eyebrows and precise eye makeup. Make sure to start off with a ghost white-base so that entails having to prep your face properly. 
For the eyebrow department at least, our best bet is the Wet N' Wild Ultimate Brow Kit. Again, it is not an official halloween makeup product, but it does the job pretty well. 
Studded Skeleton 
Halloween was good to me this year 🎃 pic.twitter.com/GOzvE9EpWI

— Manny MUA (@MannyMua733) November 1, 2016
Another look we all loved was this gem-studded skeleton look by Manny Mua. In his post, he shared that it took him at least four (yes, you read that right – four!)  hours to pull off this look but both you and I can agree that it was definitely double-glance worthy and to say the least it was worth it. 
While it is a little tedious because you will have to stick the studs carefully so as not to ruin the look, we think it is fairly achievable, just invest in high quality face paint and skin-safe gem stick ons. 
Man X Machine
You know how we all joke about 2020 being the next season of Black Mirror? How about take that a step further and use it as an inspiration. Show up to your halloween party as half a (wo)man, half machine. In this halloween makeup look by Jaclyn Forbes, you would be the robot (star) of the night. 
Among the others listed here, we will be honest. This one might be the hardest one to pull off but for as long as you carefully follow Jaclyn Forbes' halloween makeup tips throughout the video, you will do just fine. We highly recommend using Silver Metallic Cream Makeup Costume Accessory to achieve that perfect silver gradient. 
Zombie But Not Too Gory 
We will consider this makeup look as "creep-enough-but-still-not-too-creepy". This makeup look by Shaaanxo is perfect for beginners because all you need is the perfect fine-tipped brush to make it happen. Another upside to this look is that you would not be having that much problems with taking it all off, too. 
Offhand, you can make things even easier by using an eyeliner to draw the lines, however, it might look too stiff. Our best bet is to try doing this  with the Da Vinci Cosmetics Classic Series 4504 Eyeliner Brush. 
Poison Ivy 
Here is one for the DC Fans. If you want to go for something that is both geeky and sexy, this makeup look might just be the perfect one for you. You will just be needing a couple of materials. The best part? Trying to create this look by Kayleigh Noelle  in itself is already an adventure. 
In her tutorial, she also gave specific instructions and tips aside from the full-detailed makeup look. 
She A Monster 
Looking for a challenging makeup look that is completely horrifying? This big mouth monster makeup look by Ophelie definitely tops our list. If "cannot look away" is the reaction you are going for – this is definitely it. Note however, that it can be a little challenging and you will need some extra patience in achieving this look. 
Also, it might be a great idea to ask a friend or two to join in the fun. To make things easier, the best halloween makeup product to use would be the Mehron MakeUp Special Effects Kit. 
Khaleesi For Halloween 
Are you a big Game of Thrones fun? This is definitely the best halloween makeup for you. At first glance, you can already tell that Youtuber and Beauty Influencer Carli Bybel did a good job because you literally see Emilia Clarke right on the first glance. With this fierce and gorgeous halloween makeup look, you will definitely be slaying more dragons than Khaleesi herself. Also, don't you think 2020 makes the series ending a little less bad than it actually is? 
Try recreating this look with the Sephora Collection Eyebrow Editor. 
Snow White 
Grew up loving Disney princesses? So did we. If your goal is to become the apple of everyone's eyes and the fairest of them all, this Disney princess-inspired makeup look will make your night one for the books. This halloween makeup look by Emma Pickles is a little subtle but still interesting enough that you can actually wear it for other occasions too. 
To perfect the look, color those lips with the Maybelline New York Color Sensational Lipstick in the shade "On Fire Red". 
Halloween only happens once in a year – and fingers crossed, the epic night that it is going to be hopefully makes up for everything that we have missed out on throughout the year. 
Which makeup look do you like best? Sound off in the comments!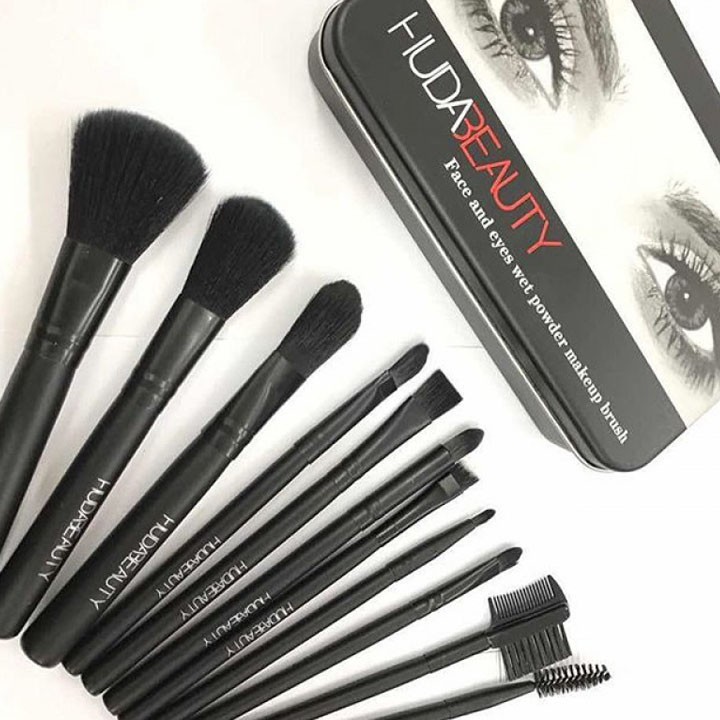 Whether you're a diehard makeup fanatic or simply like to dabble in the world of cosmetics, knowing about all the different types of makeup brushes and their uses is basically Makeup 101. We know, we know, it can feel hella overwhelming, but don't sweat it! Because we are going to share the best brushes you need to try. They are not just some brushes though.We will have a list of the essential makeup brushes that everyone should have in their collection which are form Huda Beauty!
Sculpt & Shade Brush
A dual-ended brush with synthetic fibers designed for perfect contour and bronzer application.
The smaller, angled brush contains densely packed bristles for precise product application. The larger, fluffy end buffs and blends any harsh lines on the face.
Conceal & Blend Brush
A dual ended precision complexion brush with synthetic fibers designed for foolproof makeup application.
N.Y.M.P.H. Highlighting Powder Brush
The perfect companion to the N.Y.M.P.H. All Over Highlighting Powder, this super luxurious, large fluffy brush is perfect for buffing and blending powders on both the face and body for flawless results! Huda designed this brush with a rounded-dome shape, using fibers with a luxe, soft pink gradient for the ultimate glam experience.
Buff & Blend Brush
"Using foundation shouldn't be intimidating so I wanted to create a tool that would make the application process super easy and give the most gorgeous finish. I love stippling my foundation to get maximum coverage and this brush is perfect for doing that, but it's also amazing for blending, contouring, and buffing to get a flawless look." – Huda Kattan
Moisturizing Wand Tool
This Moisturizing Wand is a 100% vegan brush crafted from 3 different fiber lengths that allows you to effortlessly apply product in a thin, even layer across your face and neck. This clever moisturizing tool makes application more efficient than ever before while reducing the risk of premature aging from skin tugging, often caused by rough and poor application technique. The long bristles hold product on the surface of the brush while shorter bristles support even application over the skin, making it easier to apply to those hard-to-reach places.
Furthermore, this tool was developed to be paired perfectly with our Honey Balm Jelly Moisturizer but works effortlessly with any other moisturizer formula.
Bake & Blend Brush
This dual-ended Huda itemis ideal for baking, applying blush, bronzer, and powder foundations.   Densely packed synthetic bristles ensure maximum product pick-up to gently press powders into skin, where the fluffy end can be used to dust on your favorite formula for a soft, airbrushed finish.
Blur & Glow Body Brush
It is a velvety-soft, all-over body brush with synthetic fibers for even application of liquid highlighter.
The Best Huda Beauty Lip Balm : Huda Beauty Diamond Hydrating Lip Balm
Despite the fact that things appear to be dull and grim recently, Huda Beauty just propelled a holographic beam of daylight. The new Huda Beauty Diamond Hydrating Lip Balm! This salve is a somewhat colored ointment with a polished completion. Obviously it additionally has this ravishing holographic bundling. Additionally, the outside of the analgesic is shimmering! Heave! Huda is continually coming through with her inventive dreams (like the cream bronzer I checked on the previous spring), so this new emollient is too energizing.
Photograph Credit: Instagram @HudaBeauty
Huda Beauty Diamond Hydrating Lip Balm is $25 and is accessible in 6 distinct shades – Seductress (transparent pink), Negligee (sheer naked), Dirty Thoughts (transparent lilac), Censored (profound purple), Femme Fatale (rosy purple), and Pink Panty (comfortable pink). In any case, just Seductress, Negligee, and Dirty Thoughts are accessible on the Sephora site. The 3 extra shades are HudaBeauty.com special features.
Huda Beauty Diamond Balm Review – Dirty Thoughts
In spite of the fact that I think each of the three shades are beautiful, I decided on the lilac shade – Dirty Thoughts. Not exclusively are lilac shades complimenting for cooler conditioned skin, yet anything with a blue connotation will help make your teeth look more white also. I additionally like that the three online restrictive shades appear to be somewhat more obscure as well. (Patterns from the Huda Beauty Instagram page are beneath.) truth be told, the haziest two – Femme Fatale and Censored seem as though they even have a smidgen of a color to them. Truly, the initial three all look really comparable. So I'm speculating the distinctions are in the connotations face to face.
Huda Beauty Diamond Hydrating Lip Balm Seductress, Huda Beauty Diamond Hydrating Lip Balm Negligee, Huda Beauty Diamond Hydrating Lip Balm Dirty Thoughts, Huda Beauty Diamond Hydrating Lip Balm Censored, Huda Beauty Diamond Hydrating Lip Balm Femme Fatale, Huda Beauty Diamond Hydrating Lip Balm Pink Panty, Huda Beauty Diamond Hydrating Lip Balm Swatches
Photograph Credit: Instagram @HudaBeauty
Nonetheless, when I both swatched and applied the shade Dirty Thoughts, there was almost no color, color, or hint by any means. Indeed, it simply left a swipe of luminous sparkle behind. Despite the fact that the sparkle is beautiful, it wasn't in any way similar to I foreseen. I hoped for something else of a genuine lip ointment. Possibly with a trace of sparkle. Not an all out sparkle stick. Additionally, the equation itself is overly very delicate. After only several applications, the head of the lipstick was totally caution down. It's so delicate it even left some delicate disintegrates of analgesic on my wrist and lips. I love a delicate lip demulcent, yet nobody needs to squander item!
Huda Beauty Diamond Balm Review – Dirty Thoughts Swatch
I love the idea and the staggering bundling. Yet, I was truly interested by the external covering of the lip salve. The sparkle covering certainly attracted me to this item. It helps me to remember the outside of the Barbie x Pur lipsticks. (Full survey here). In spite of the fact that the outside of the lipstick was canvassed in sparkle, the lipstick was some way or another despite everything matte! Like enchantment! Yet, that is not the situation with the Huda Beauty Diamond Hydrating Lip Balm. Actually, this lip analgesic is a complete sparkle bomb! It's extremely difficult to find in the photographs, however you can see the sparkle in the pattern. You're essentially simply swiping sparkle all the rage.
Huda Beauty Diamond Balm Review
Generally I would think about a lip analgesic as to a greater degree a "no cosmetics" cosmetics fundamental. Nonetheless, this Diamond Lip Balm is so glittery I think you'd look sort of odd wearing it with no other cosmetics. Indeed, I think this salve is ideal for the young lady that needs to say something however abhors lip sparkle. It gives you an overly shimmering "wow factor" sort of look you'd anticipate from the Pat McGrath Labs Lust Gloss (you can peruse that full audit here.) Like I referenced, I think this medicine is ideal for the low upkeep lady that needs an excessively glittery (however simple!) search for a night out. This isn't your consistently lip ointment. You'll without a doubt get sparkle all over the place.
Huda Beauty Diamond Balm Review
Generally speaking Ranking (out of 5)
Huda Beauty Diamond Hydrating Lip Balm – 3 – I'm somewhat confounded by it. It's excessively lovely. Be that as it may, it's a greater amount of only a saturating sparkle clincher than a consistently medicine. In any case, there's not exactly enough shading/color to make it an incredible independent item. In spite of the fact that the sparkle is entertaining. Furthermore, the bundling is delightful.
What's your opinion of the new Huda Beauty Diamond Hydrating Lip Balm? Is it on your rundown? Which shade is your top pick? Tell me in the remarks beneath!
The Best Huda Beauty Lipstick Below 25 dollars!
As a self-claimed lipstick junkie, I've for quite some time been an aficionado of matte fluid recipes. All things considered, I'm the first to concede that not all recipes are made similarly. Some are so inconceivably drying that you have an inclination that your mope was assaulted with a sandblaster. Others stay ultra rich for quite a long time after application, so they wear off your mouth and into your supper. I had surrender to all these (honestly unwanted) symptoms for the sake of a sensational pucker until I tried out Huda Kattan's new Liquid Matte lipstick ($20).
Huda herself is without a doubt a marvel virtuoso. Beside being a vlogger, cosmetics craftsman, and one of the top influencers on Instagram, she has a stalwart cosmetics line. As of recently, it's comprised of fluttery bogus lash strips and Lip Contour pencils. Taking into account that her velvety, sturdy lip liners immediately became fundamentals in my excellence pack, I had elevated expectations for the Liquid Mattes, and I was not frustrated.
Her recipe is shockingly wet and runnier than others you may have played with, however this is really a gift. Since the recipe takes more time to dry, you have more opportunity to work with the shading and shape your lips. After around 60 seconds, the fluid sets yet is marginally shabby to the touch. This is likewise a reward. Your pucker will never feel got dried out or dried up (yuck), and you can layer on coat after coat without the color demonstrating any stout development. I explored different avenues regarding slicking on a couple of shades — no sweat! — to make a more dimensional, ombré lip look.
The longwear nature of the recipe is additionally noteworthy — I ate, drank, and even rested in these lipsticks effectively with no chipping or disintegration. Nonetheless, in the territories where the shading blurred, it did so equally, not in enormous patches. I additionally cherished the fragrance! It was fragrant of genuine vanilla concentrate in the cylinder, rather than the more plastic-like smells found in other cosmetics items. On the lips, it dried down to a more inconspicuous cake hitter aroma.
In any case, by a long shot, the best some portion of the Liquid Matte dispatch is the shading choices. The choice inclines intensely towards '90s pinks, earthy colors, and vampy tones, except for a couple of dynamic reds and pinks. While Huda records the smooth chocolate conceal "Tease" and cool red "Heartbreaker" as her top picks, I am living for "Venus," a warm, light mauve. I apply it well external my common lip line to get that pined for Kylie-esque grit pucker.
You can shop each of the 16 shades when they dispatch on July 29, which happens to be National Lipstick Day — an occasion that the Huda Beauty brand possesses the rights to. Meanwhile, perused on to investigate which hues you need in your assortment, see patterns on various skin tones, and even observer how they hold up to running water (spoiler: they don't move).