With the increasing amount of time spent at home amid the coronavirus pandemic, your body is now adjusting to a new routine and sometimes your skin is affected. Your skin is the largest organ in your body, might also have a hard time figuring out what is happening and freak out in one way or another.
There are big chances you are exposed to less harsh sun and use less makeup–or even no makeup at all, which is good for your skin. However, you might also expose yourself to more air conditioning, eat less healthy food and consume more alcoholic beverages to cope with the quarantine blues.
Get enough sleep
Sleeping is imperative for your overall healthy life. According to Sleepfoundation.org, healthy sleeping behavior includes falling asleep easily within 15-20 minutes of lying down to sleep; regularly sleeping for a total of seven to nine hours in a 24-hour period; having continuous sleep and not having long periods of lying awake when you wish to be sleeping; and waking up feeling fresh and alert.
Remember that if you don't get enough sleep, your body will release more cortisol, the stress hormone that can cause acne or psoriasis.
Work out routinely
Working out will help your body to burn cortisone, which is a good way to reduce stress and help keep your skin clear. However, remember to immediately take a shower after exercising.
Wear moisturizer
It says that people would sit around in air-conditioned rooms more often than in pre-coronavirus times. This can cause your skin to be exposed to dry air for a longer time. She suggested using a humidifier in the room where you sit most often in the house. Also, try not to take too many long, hot showers as hot water sucks the moisture out of your skin.
Don't go too far with skincare
You should brace yourself with an experimental skin care routine now that you have so much time on your hands. Use skin masks, peels and exfoliators only with caution. Be mindful that all of that exfoliating and peeling affects your skin's acid mantle. You have good bacteria and bad bacteria. You don't want to get rid of all your good stuff.
Additionally, if you over-wash, you are stripping the natural oils, so your skin will start producing more," she said. According to Saedi, it is enough to wash your face only once or twice a day, and use benzoyl peroxide once a week.
Moisturize your hands
The number-one COVID-19 preventive measure is to wash your hands, so naturally by now you will be washing your hands more often than you used to. However, always remember to moisturize your hands after washing.
All that washing and hand sanitizer dries out the skin. We recommend to use hand lotions or petroleum jelly to avoid cracked and chapped hands.
With the lockdown being in effect, it might be harder to purchase your skincare supplies. However, you still can make your own skincare with things you may find in your kitchen.
Drink plenty of water
When you drink enough water, the cells in every part of your body get hydrated through the blood. The skin, being the largest organ in the body, also gets hydrated, even as the impurities and toxins get flushed out at the cellular level. Drinking enough water helps the body to flush out toxins while giving you healthier skin. Studies have revealed that drinking just two cups of water can increase blood flow to the skin which gives it an even tone.
Drinking ample water also balances the oil and water content on the skin of your face. This helps to prevent excess oil and sebum secretion, which means fewer clogged pores and acne.
Adult acne is getting more common these days due to busy lifestyles and lack of hydration. A study revealed that 4-6 people out of 100 in the age groups of 20-40 have adult acne.
Black Pink Document Coming Your Way In Netflix
The hottest K-pop girl group shows no signs of slowing down and seems to only get things bigger and greater.
Netflix is now releasing a documentary about rising K-pop girl group, Blackpink. The film will chart the increase of the band and have behind-the-scenes clips of them recording their new album, culminating in their record-breaking performance at Coachella in 2019 – where they became the primary all-girl K-pop group to require the stage.
"The K-pop phenomenon has been sweeping the globe and Blackpink has arguably become the most recognizable and most popular girl group in the world," said Netflix's Adam Del Deo in a statement (via Deadline).
"Director Caroline Suh's trusted relationship with Jisoo, Jennie, Rosé and Lisa offers organic and honest moments that give viewers an authentic inside look into the lives of Blackpink, as well as the dedication and gruelling preparation each member puts into every hit song, history-making performance and sold-out arena tour.
"We're thrilled to bring their story to their fans worldwide."
The band have recently collaborated with Selena Gomez on the track 'Ice cream' (which debuted at No 13 on the Billboard Hot 100 chart) and on July 28, the band announced on Twitter that their debut album, titled The Album, would be released on October 2, following on from their 2019 EP 'Kill This Love'.
They also featured on the track 'Sour Candy' on Lady Gaga's latest album Chromatica and now Little Mix recently teased they'd love to work with the band too, with Jade Thirlwall saying: "We're just waiting for the DM back."
Blackpink: Light Up The Sky will be available to stream on Netflix on October 14.
Chadwick Boseman Dies After 4-Year Long Battle With Cancer
Chadwick Boseman, known for his role as King T'Challa in Marvel's "Black Panther," has died after a four-year battle with cancer, in step with a post on his Twitter account. The post said the actor, who also played Black icons like James Brown, Thurgood Marshall and ballplayer, died reception along with his wife and family.
Boseman was diagnosed with stage three colon cancer in 2016, and it progressed to stage four, the post said. He was 43 years old, according to The Associated Press.
"A true fighter, Chadwick persevered through it all, and brought you many of the films you have come to love so much. From Marshall to Da 5 Bloods, August Wilson's Ma Rainey's Black Bottom and several more, all were filmed during and between countless surgeries and chemotherapy," the post said.
The post added that it had been "the honor of his career" to play King T'Challa in "Black Panther." In August 2019, Marvel Studios president Kevin Feige and "Black Panther" director Ryan Coogler announced that "Black Panther 2" would be released in May 2022.
Boseman had not publicly disclosed his battle with cancer, per AP.
On Saturday, the governor of South Carolina, where Boseman was born, said he ordered the Statehouse flags to be lowered to half-staff on Sunday to "honor the life, contributions and memory of a very extraordinary son of South Carolina."
Boseman graduated from Howard University and starred in various television shows in the early 2000s before getting the star role as Jackie Robinson, the first Black person to play in Major League Baseball, in the 2013 film "42," according to IMDB.
From there, he went on to star as James Brown in the 2014 film "Get On Up," Andre Davis in the 2019 film "21 Bridges," and Stormin' Norman in this year's "Da 5 Bloods."
His passing came on the day Major League Baseball was celebrating Jackie Robinson Day, usually celebrated on April 15. Major League Baseball tweeted that "his transcendent performance in '42' will stand the test of time and serve as a powerful vehicle to tell Jackie's story to audiences for generations to come."
Fans all over the world and colleagues shared messages of grief online. Additionally, filmmaker Ava DuVernay posted a photo of the Wakanda ancestral plane from "Black Panther," telling Boseman, "May you have a beautiful return, King. We will miss you so."
Marvel Studios tweeted a photo of Boseman dressed in the costume of his iconic role, writing, "our hearts are broken. … Your legacy will live on forever."
The company also tweeted out a series of photos of Boseman from Marvel sets and with his fellow cast members.
Chris Evans, who starred in Marvel's "Avengers" movies alongside Boseman, tweeted that he is "absolutely devastated" and that Boseman's death is "beyond heartbreaking."
"Chadwick was special. A true original. He was a deeply committed and constantly curious artist. He had so much amazing work still left to create," Evans said. "I'm endlessly grateful for our friendship."
Democratic vice presidential candidate Kamala Harris tweeted a photograph of her and Boseman, saying she is "heartbroken." Boseman's last tweet before his death was a photograph of himself and Harris, encouraging people to vote.
"My friend and fellow Bison Chadwick Boseman was brilliant, kind, learned, and humble," she wrote. "He left too early but his life made a difference."
She also attended Howard University, whose mascot is that the bison.
Best Huda beauty Accessories/Products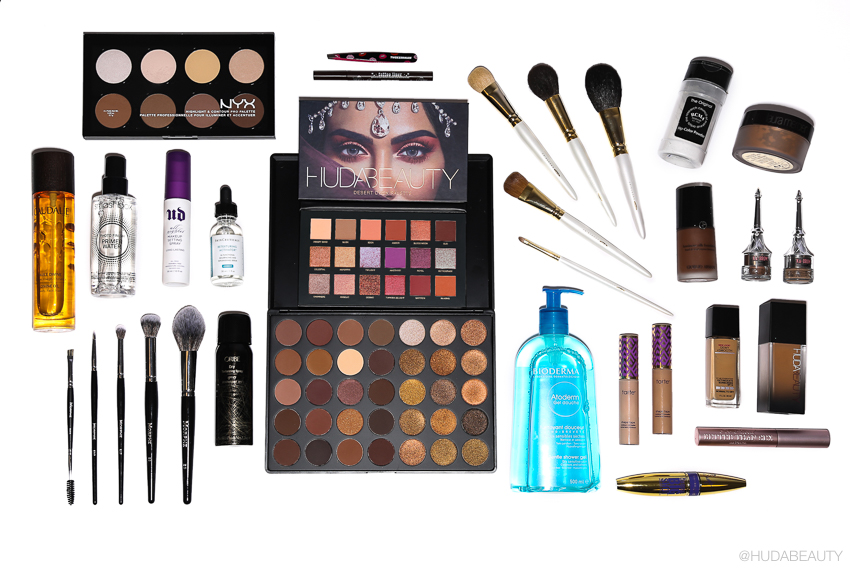 Been obsessed with Huda Kattan? No wonder, because there are some gems that you must try from her products and if you're truly captivated by her beauty items, it's acceptable! From a foundation that can cover everything (and we mean everything, even hives) to rich, saturated eyeshadow palettes, Huda Beauty does not disappoint. These products are outstanding additions to your ever-growing cosmetics collection, and will become everyday staples for your glamorous beauty look.
Today, Huda Beauty is the name that is not only famous amongst beauty bloggers but everyone globally. People swear by her products and we all know why. We all know a lot of beginners want to try Huda Beauty products but some don't because they don't know what to choose from the extensive range. Also, they are expensive so you want to choose wisely. So, we have listed down a few products you can try, test and love, much like us. Also, for those who are wondering – Huda Beauty is cruelty-free.
HUDA BEAUTY #FAUXFILTER FOUNDATION
This foundation is God sent and no, we are not exaggerating or being overdramatic with that statement. It's true. The foundation blends like a dream, first of all. Second of all, it covers up blemishes leaving your skin smooth with just a pump of it. However, this one is fragranced and the coverage is quite heavy so I would recommend keeping it for wedding or occasional use.
HUDA BEAUTY LEGIT LASHES DOUBLE-ENDED VOLUMIZING AND LENGHTENING MASCARA
The Huda Beauty Legit Lashes Double-Ended Volumizing and Lengthening Mascara gives you insanely long, dramatic eyelashes with its dual-ended wand. The formula is an editor favorite.
HUDA BEAUTY OVERACHIEVER CONCEALER
Trust us once we say this – this lipstick isn't leaving. It transfers easily onto your lips with just a glide leaving your lips hydrated. The color intensifies once it sets to a matte finish. And therefore the best part? It's transfer-proof.
HUDA BEAUTY MATTE & METAL MELTED SHADOWS
It's not easy to master the art of applying eyeshadow. It took me a lot of YouTube tutorials to learn how to hold a brush well, so eyeshadow was the next level. So, if you are looking to avoid the hassle then this is perfect for you. This dual eyeshadow stick has velvety matte formula on one side and glitter on the end. And you can carry it around with you too.
HUDA BEAUTY OBSESSIONS PALETTE
We saved the best for the last. Even though their prices for eyeshadows burned right through my pockets, I still ended up buying it. I couldn't resist the beautiful shades and that mad pigment. I especially love their glitter, which sits perfectly on the lid and actually draws out the eyes. Let's be real.  Any glitter causes fall out and so does this one. Even then, this is one of my top picks from her line. A swipe off glitter across your lid and you are party-ready!